Saturday, September 30, 2017 @ 7:30 pm at the Cowichan Performing Arts Centre
Click here for tickets and details.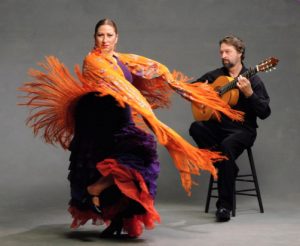 Flamenco Rosario is known for its fiery, creative and original performances and collaborations. The company honours the rich flamenco tradition while stretching the boundaries and evolution of the art form. An interpreter of flamenco dance, Artistic Director Rosario Ancer has revolutionized flamenco by crossing boundaries of history and culture and blending a variety of dance traditions.
Flamenco Rosario's Cuadro Flamenco is a spirited event celebrating the traditional, intimate setting of flamenco performance. Originating in the era of the café cantantes, and continuing today in Spain's tablaos flamencos, the form showcases dancers, musicians and singers sharing the stage.
In keeping with the tablaos tradition, the evening's program is not predetermined, but follows the spontaneity and improvisational nature of flamenco. The dancers perform for the Cuadro behind them as well as the audience in front. A healthy dose of competition is an important part of the show, as is the rapport among the performers and with the audience. Don't be afraid to shout out olé when the mood strikes you!
Come early for a 7pm pre-show chat with Artistic Director Rosario Ancer.