Please contact us if you have a flamenco event to submit.

Events sponsored in part by the Flamenco de la Isla Society

Events by others
Announcing Concert Tour of Vancouver Island:
Josué Tacaronte – Flamenco Guitar/World Music/Latin – Fusion
with Marty Howe (flute and harmonica) and special Guest Mark Woodside (vocals and guitar)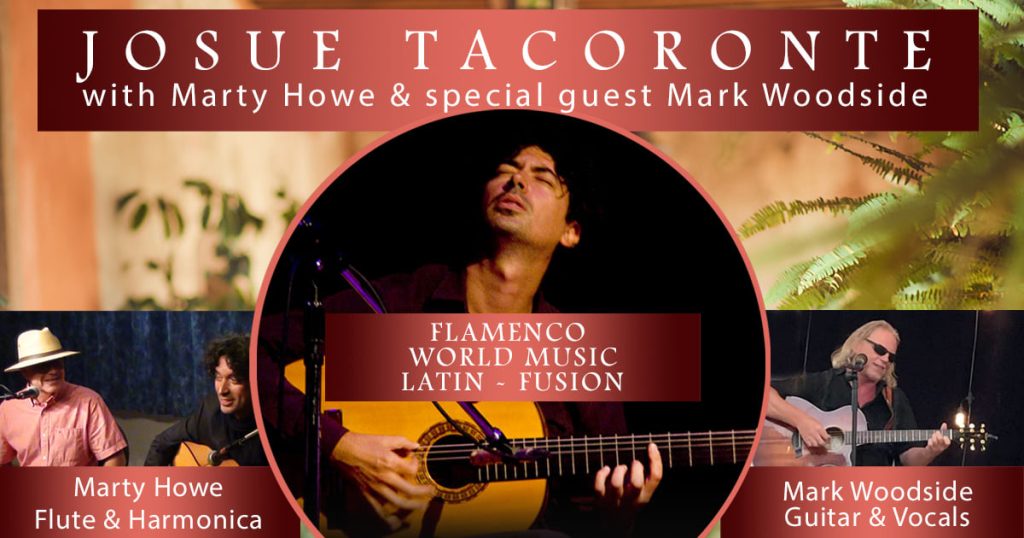 Dates and City:
Nov 10th – Nanaimo
Nov 19th – Qualicum Beach
Dec 4th – SaltSpring
Dates for Gabriola and Duncan coming soon!
Details:
Nanaimo: Nov 10th, 7:30 PM – Harbour City Concerts, house concert at 421 Milton St., Nanaimo BC
Nanaimo Tickets: $20 via online Eventbrite: https://josue-tacoronte-hvhc-nanaimo.eventbrite.ca
Nanaimo Venue Info: https://www.facebook.com/HarbourCityConcerts
Qualicum Beach: Nov 19th, 7:00 PM (doors open 6:30)- Oceanside Folk/Roots Club, held at St. Stephen's United Church, 150 Village Way, Qualicum Beach
Qualicum Beach Tickets: $30 by calling Mick Sherlock at 403-608-7280, email: micksherlock58@gmail.com
Qualicum Beach Venue Info: https://www.facebook.com/Oceanside-FolkRoots-Club-109335587590412
Salt Spring Island: Dec 4th, 7:30 PM – The Legion Hall, 120 Blain Rd., Ganges
Salt Spring Island Ticket info coming soon!